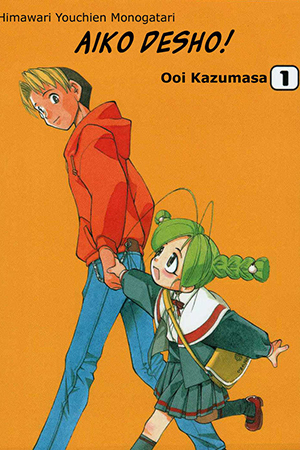 Himawari Youchien Monogatari: Aiko desho!
51 chapters | Completed
| Rank 7955
Hanatori Suimei, a ronin, came to his aunt's house to study for the next university entrance exam. Turn out the place he will be living in is a kindergarden ran by his aunt. There, he meets Aiko, a 4 year-old girl, Haru, a teacher there, and many other children. How will his relationship with Aiko, with Haru turn out?
Authors
Chapters
| | |
| --- | --- |
| Vol.7 Chapter 51: Sometime Today [End] | August 30, 2016 |
| Vol.7 Chapter 50: Graduation | August 30, 2016 |
| Vol.7 Chapter 49: Promise | August 30, 2016 |
| Vol.7 Chapter 48: Saying Goodbye | August 30, 2016 |
| Vol.7 Chapter 47: Leaving Early | August 30, 2016 |
| Vol.7 Chapter 46: A Peaceful Sunday | August 30, 2016 |
| Vol.7 Chapter 45: Sad News | August 30, 2016 |
| Vol.6 Chapter 44: Never-Changing Days | August 30, 2016 |
| Vol.6 Chapter 43: Exam Result | August 30, 2016 |
| Vol.6 Chapter 42: Handmade Charm | August 30, 2016 |
| Vol.6 Chapter 41: The Moon and the Sun | August 30, 2016 |
| Vol.6 Chapter 40: 26 Christmas Cards | August 30, 2016 |
| Vol.6 Chapter 39: For My Friend | August 30, 2016 |
| Vol.6 Chapter 38: Lucky Birthday | August 30, 2016 |
| Vol.5 Chapter 37: Pinky Swear | August 30, 2016 |
| Vol.5 Chapter 36: A Drab Competition | August 30, 2016 |
| Vol.5 Chapter 35: Go, Fight, Win! | August 30, 2016 |
| Vol.5 Chapter 34: Invitation to the Campus Festival | August 30, 2016 |
| Vol.5 Chapter 33: Emotional Conflicts | August 30, 2016 |
| Vol.5 Chapter 32: Shopping Squad | August 30, 2016 |
| Vol.5 Chapter 31: Sweet Temptation | August 30, 2016 |
| Vol.4 Chapter 30.5: Stories of Aiko's First Times | August 30, 2016 |
| Vol.4 Chapter 30: Regaining Memories | August 30, 2016 |
| Vol.4 Chapter 29: Head to Head Competition | August 30, 2016 |
| Vol.4 Chapter 28: Niko Niko Pun | August 30, 2016 |
| Vol.4 Chapter 27: Matchmaking Party! | August 30, 2016 |
| Vol.4 Chapter 26: Time to Study | August 30, 2016 |
| Vol.4 Chapter 25: Summer Festival | August 30, 2016 |
| Vol.4 Chapter 24: Playing in Water | August 30, 2016 |
| Vol.3 Chapter 23: VS. Ms. Precocious | August 30, 2016 |
| Vol.3 Chapter 22: Puzzle (II) | August 30, 2016 |
| Vol.3 Chapter 21: Puzzle (I) | August 30, 2016 |
| Vol.3 Chapter 20: The Children in the AQUARIUM | August 30, 2016 |
| Vol.3 Chapter 19: After the Rain | August 30, 2016 |
| Vol.3 Chapter 18: Suimei, You Are in the Way | August 30, 2016 |
| Vol.3 Chapter 17: Laughter is the Best Medicine | August 30, 2016 |
| Vol.2 Chapter 16: About Onii-chan | August 30, 2016 |
| Vol.2 Chapter 15: The Tale of Ryouen Yobikoi.What Should We Do ? | August 30, 2016 |
| Vol.2 Chapter 14: The Shape of Kindness | August 30, 2016 |
| Vol.2 Chapter 13: The Day Haru Goes Back | August 30, 2016 |
| Vol.2 Chapter 12: A Distressing Night | August 30, 2016 |
| Vol.2 Chapter 11: A Shocking Morning | August 30, 2016 |
| Vol.2 Chapter 10: What's with Haru? | August 30, 2016 |
| Vol.2 Chapter 9: The Two Who Are In Love and The Two Who Are Shocked | August 30, 2016 |
| Vol.1 Chapter Omake: Same Sight ~A Memory That Connects the Stars~ | August 30, 2016 |
| Vol.1 Chapter 7: Wandering Around | August 30, 2016 |
| Vol.1 Chapter 5: Accusation | August 30, 2016 |
| Vol.1 Chapter 4: Good Morning!? | August 30, 2016 |
| Vol.1 Chapter 3: Are You Lonely? | August 30, 2016 |
| Vol.1 Chapter 2: Aiko-chan, What Are You Hiding? | August 30, 2016 |
| Vol.1 Chapter 1: Welcome to the Himawari Kindergarten | August 30, 2016 |