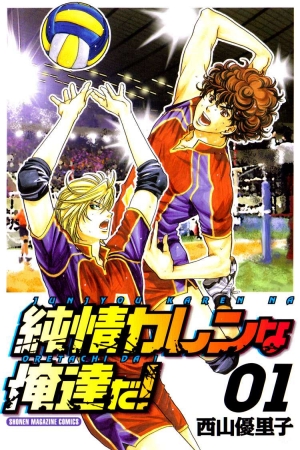 Junjou Karen na Oretachi da!
24 chapters | Completed
| Rank 11406
A pretty-boy volleyball player named Akira gets kicked out of his middle school team for being too arrogant. With his coach refusing to give him a reference, it looks like he will only be able to go to a high school with a mediocre volleyball team. By chance, he finds a leaflet for Seiryoh High School volleyball team and decided to try out. But then complications arise in the form of a delinquent with very curly hair.
Authors
Chapters
| | |
| --- | --- |
| Chapter 24 | August 30, 2016 |
| Chapter 23 | August 30, 2016 |
| Chapter 22 | August 30, 2016 |
| Chapter 21 | August 30, 2016 |
| Chapter 20 | August 30, 2016 |
| Chapter 19 | August 30, 2016 |
| Chapter 18 | August 30, 2016 |
| Chapter 17 | August 30, 2016 |
| Chapter 16 | August 30, 2016 |
| Chapter 15 | August 30, 2016 |
| Chapter 14 | August 30, 2016 |
| Chapter 13 | August 30, 2016 |
| Chapter 12 | August 30, 2016 |
| Chapter 11 | August 30, 2016 |
| Chapter 10 | August 30, 2016 |
| Chapter 9 | August 30, 2016 |
| Chapter 8 | August 30, 2016 |
| Chapter 7 | August 30, 2016 |
| Chapter 6 | August 30, 2016 |
| Chapter 5 | August 30, 2016 |
| Chapter 4 | August 30, 2016 |
| Chapter 3 | August 30, 2016 |
| Chapter 2 | August 30, 2016 |
| Chapter 1 | August 30, 2016 |