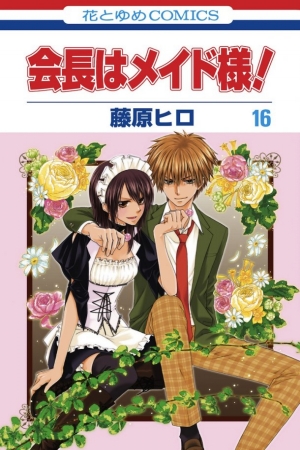 Kaichou wa Maid-sama!
101 chapters | Completed
| Rank 35
The class president has a little secret she's keeping from everyone in her high school. As President of the Student Council, the overachieving feminist Misaki really socks it to the guys in an attempt to make the former all-boys' school attract a more female student body. But what will she do when the most awesome boy in class finds out Misaki's part-time job is in a maid café?! It's love at first fight in this shojo romantic comedy—with a whole new look at the battle between the genres!
Authors
Characters
Chapters
| | |
| --- | --- |
| Chapter 85.6: Short Story | May 28, 2017 |
| Chapter 85.5: Extra | May 28, 2017 |
| Chapter 85: Definitely Toward A Happy Future!-[End] | May 28, 2017 |
| Chapter 84: The Calculations of the Feelings of Love! | May 28, 2017 |
| Chapter 83: There Are Times When Men Must Fight, And So Do The Women | May 28, 2017 |
| Chapter 82: A Secret Between the Close Sisters!? | May 28, 2017 |
| Chapter 81: So Close That We Can't Get Any Closer Than This | May 28, 2017 |
| Chapter 80: Two Masters and a Maid!? | May 28, 2017 |
| Chapter 79: Finally, the Two of Us Can Meet In Person | May 28, 2017 |
| Chapter 78: To Britain! | May 28, 2017 |
| Chapter 77 | May 28, 2017 |
| Chapter 76: Master, Do You Wish To Be Stepped on by Me So Much...? | May 28, 2017 |
| Chapter 75: Overcoming the Distance Between Them, Their Thoughts Meet | May 28, 2017 |
| Chapter 74: A Pervert Even in Great Britain | May 28, 2017 |
| Chapter 73: The Master is Heading to Britain? | May 28, 2017 |
| Chapter 72: The Cinderella Before Midnight...? | May 28, 2017 |
| Chapter 71: Welcome Back to the Bustling Maid Latte! | May 28, 2017 |
| Chapter 70.5: Special: The Idiot, The Delinquent and The Madonna | May 28, 2017 |
| Chapter 70: That is the Result of a Distant Memory | May 28, 2017 |
| Chapter 69: A Smile As the President, But...? | May 28, 2017 |
| Chapter 68: The Similarity Between the Ayuzawa Sisters... Calm at Heart | May 28, 2017 |
| Chapter 67: Even If My Uniform Has Changed, My Inner Self Wouldn't | May 28, 2017 |
| Chapter 66: Formidable!? Usui's Peers | May 28, 2017 |
| Chapter 65: The Strongest President is in Top Form! | May 28, 2017 |
| Chapter 64: The Two of Them Spending the Final Days of Their Campus Life Toge... | May 28, 2017 |
| Chapter 63: This Maid is Deeply Engrossed in Love, Master | May 28, 2017 |
| Chapter 62: In Order Not to Lose That Important Thing, the Two Finally Face I... | May 28, 2017 |
| Chapter 61.5: Maid Latte's Backyard | May 28, 2017 |
| Chapter 61: Boys Forbidden, Girls Talk | May 28, 2017 |
| Chapter 60.5: Side Story - Sentimental Ikkun | May 28, 2017 |
| Chapter 60: Day One:School trip!! | May 28, 2017 |
| Chapter 59: The Demon In Love! | May 28, 2017 |
| Chapter 58: Maid Latte loves the Reborned Couple! | May 28, 2017 |
| Chapter 57: The Confession! | May 28, 2017 |
| Chapter 56: A Maid Christmas! + A Date at a Theme Park! | May 28, 2017 |
| Chapter 55: You Can't Deceive My Eyes! | May 28, 2017 |
| Chapter 54: A Meeting Between Ninja and Maid | May 28, 2017 |
| Chapter 53: A Secret Battle Plan With Master...?! | May 28, 2017 |
| Chapter 52: Under The Ominous Watch Of an English Spy | May 28, 2017 |
| Chapter 51.5: Good Morning, I am the Younger Sister | May 28, 2017 |
| Chapter 51: Two Usui's | May 28, 2017 |
| Chapter 50.5: Our President the Butler! | May 28, 2017 |
| Chapter 50: An Invitation from President Igarashi | May 28, 2017 |
| Chapter 49: Phantasmagoric! | May 28, 2017 |
| Chapter 48: Maid-Sama Spring | May 28, 2017 |
| Chapter 47: Time for Some Love! | May 28, 2017 |
| Chapter 46: The Master, Reveals His Secret, To The Maid | May 28, 2017 |
| Chapter 45: Lightning Speed!! First Maria-Sensei, And Next Her Fiance!? | May 28, 2017 |
| Chapter 44: A Confession to Misaki?! | May 28, 2017 |
| Chapter 43: Teacher...!! | May 28, 2017 |
| Chapter 42: The Guy Who Holds The Keys To All Secrets....!? | May 28, 2017 |
| Chapter 41: Master's Big News!!! | May 28, 2017 |
| Chapter 40: Charge Towards The Bursting Affection Of Love And The Dazling Color ... | May 28, 2017 |
| Chapter 39: Usui Resolve.....? | May 28, 2017 |
| Chapter 38: The Battle Of The Election Is In It's Climax!! | May 28, 2017 |
| Chapter 37: Gather Up!! All The Shining Stars Of Seika High!! | May 28, 2017 |
| Chapter 36.2: Side Story - A Certain Morning in the Student Council Room | May 28, 2017 |
| Chapter 36.1: Side Story - Idiot and Delinquent and Hero | May 28, 2017 |
| Chapter 36: Seika High's student council is in a big pinch...!? | May 28, 2017 |
| Chapter 35: The Message between His Eyes | May 28, 2017 |
| Chapter 34: The things that he wishes for, is always, always just that one thing | May 28, 2017 |
| Chapter 33: Enter The World Of The Witch Maid<3 | May 28, 2017 |
| Chapter 32.5: Side Story - Aoi and His Happy Friends | May 28, 2017 |
| Chapter 32: Do You Want To Devote Yourself To Me? | May 28, 2017 |
| Chapter 31: The Secret Girls Talk | May 28, 2017 |
| Chapter 30: Sensei, Misaki-chan Is In Deep Trouble!! | May 28, 2017 |
| Chapter 29: The Eating Contest | May 28, 2017 |
| Chapter 28.2: Side Story - Vice-President is a Prince!? | May 28, 2017 |
| Chapter 28.1: Special Chapter - Blue Spring | May 28, 2017 |
| Chapter 28 | May 28, 2017 |
| Chapter 27 | May 28, 2017 |
| Chapter 26 | May 28, 2017 |
| Chapter 25 | May 28, 2017 |
| Chapter 24: First time visit to Usui's ... House? | May 28, 2017 |
| Chapter 23 | May 28, 2017 |
| Chapter 22 | May 28, 2017 |
| Chapter 21 | May 28, 2017 |
| Chapter 20 | May 28, 2017 |
| Chapter 19.2: Side Story - The 3 idiots become Maid-samas, too! | May 28, 2017 |
| Chapter 19.1: Side Story - And so, Momotarou became Maid-sama too! | May 28, 2017 |
| Chapter 19: Usui becomes an enemy! | May 28, 2017 |
| Chapter 18: Maid Latte in the beach Party! | May 28, 2017 |
| Chapter 17: School Visitation Association and a Glasses Rabbit | May 28, 2017 |
| Chapter 16 | May 28, 2017 |
| Chapter 15: Class 1-7 Soutaru Kanou | May 28, 2017 |
| Chapter 14: Side Story | May 28, 2017 |
| Chapter 13: Net idol Aoi | May 28, 2017 |
| Chapter 12: Little Sister Day?!!! | May 28, 2017 |
| Chapter 11: Little Sister Day?!!! | May 28, 2017 |
| Chapter 10: Sports Festival part 2 | May 28, 2017 |
| Chapter 9: Sports Festival part 1 | May 28, 2017 |
| Chapter 8: Misa chan And Igarashi Tora | May 28, 2017 |
| Chapter 7: Igarashi Tora | May 28, 2017 |
| Chapter 6: Misaki As A Boy | May 28, 2017 |
| Chapter 5: Miyabigaoka Chess Match | May 28, 2017 |
| Chapter 4.5: Extra: A Transparent World (Toumei na Sekai) | May 28, 2017 |
| Chapter 4.4: Extra - Closing Time | May 28, 2017 |
| Chapter 4: The Ayuzawa Cram School | May 28, 2017 |
| Chapter 3: Misaki M and Two S's | May 28, 2017 |
| Chapter 2: A Maid Even at the School Festival | May 28, 2017 |
| Chapter 1: The Student Council President is a Maid! | May 28, 2017 |