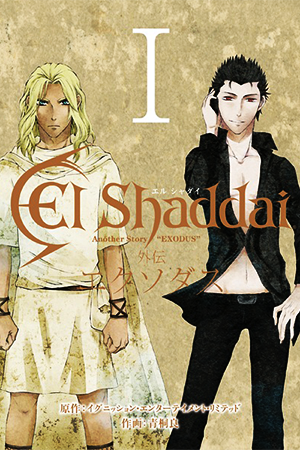 El Shaddai - Another Story "Exodus"
13 chapters | Completed
| Rank 7918
A side story to the 2011 video game El Shaddai. Enoch, freshly summoned from Earth by God to serve as a clerk in Heaven, is thrust into the world of Heaven, where not everything is what it seems. A conspiracy is brewing in Heaven, and the only one on his side is an angel by the name of Lucifel...
Authors
Chapters
| | |
| --- | --- |
| Vol.2 Chapter 13 | April 12, 2017 |
| Vol.2 Chapter 12 | April 12, 2017 |
| Vol.2 Chapter 11 | August 30, 2016 |
| Vol.2 Chapter 10 | August 30, 2016 |
| Vol.2 Chapter 9 | August 30, 2016 |
| Vol.2 Chapter 8 | August 30, 2016 |
| Vol.2 Chapter 7 | August 30, 2016 |
| Vol.2 Chapter 6 | August 30, 2016 |
| Vol.1 Chapter 5 | August 30, 2016 |
| Vol.1 Chapter 4 | August 30, 2016 |
| Vol.1 Chapter 3 | August 30, 2016 |
| Vol.1 Chapter 2 | August 30, 2016 |
| Vol.1 Chapter 1 | August 30, 2016 |