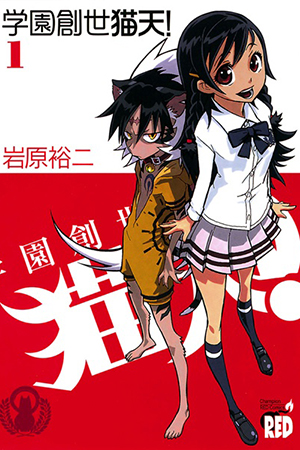 Gakuen Sousei Nekoten!
23 chapters | Completed
| Rank 7646
Yumi enrolls at Matabi Academy for one reason: you can raise your cat there if you get permission. After the entrance Ceremony a Monster suddenly appears endangering her and her new friend. Given a mysterious power Yumi and her cat Kasuke strive into battle.
Authors
Chapters
| | |
| --- | --- |
| Chapter 23 | August 30, 2016 |
| Chapter 22 | August 30, 2016 |
| Chapter 21 | August 30, 2016 |
| Chapter 20 | August 30, 2016 |
| Chapter 19 | August 30, 2016 |
| Chapter 18 | August 30, 2016 |
| Chapter 17 | August 30, 2016 |
| Chapter 16 | August 30, 2016 |
| Chapter 15 | August 30, 2016 |
| Chapter 14 | August 30, 2016 |
| Chapter 13 | August 30, 2016 |
| Chapter 12 | August 30, 2016 |
| Chapter 11 | August 30, 2016 |
| Chapter 10 | August 30, 2016 |
| Chapter 9 | August 30, 2016 |
| Chapter 8 | August 30, 2016 |
| Chapter 7 | August 30, 2016 |
| Chapter 6 | August 30, 2016 |
| Chapter 5 | August 30, 2016 |
| Chapter 4 | August 30, 2016 |
| Chapter 3 | August 30, 2016 |
| Chapter 2 | August 30, 2016 |
| Chapter 1 | August 30, 2016 |