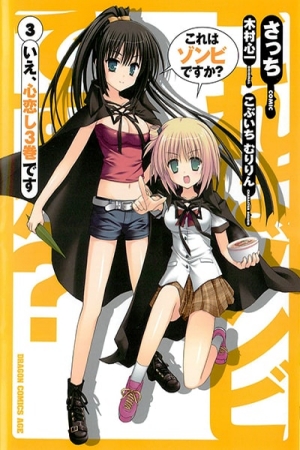 Kore wa Zombie desu ka?
15 chapters | Ongoing
| Rank 1351
Aikawa Ayumu is a normal high school boy. One day he is killed by a serial killer and revived as a zombie by a necromancer Eucliwood Hellscythe. He starts to serve Eu as her guard but he happens to deprive a maho shojo Haruna of her magic power. Haruna orders Ayumu to fight against anti-mahou shojo system "Megalo" in her place.
Authors
Chapters
| | |
| --- | --- |
| Vol.3 Chapter 15: So you are a zombie | August 30, 2016 |
| Vol.3 Chapter 14: Welcome talk is exchanged over drinks | August 30, 2016 |
| Vol.3 Chapter 13: Dont mind me and just fry it already!! | August 30, 2016 |
| Vol.3 Chapter 12: Isn't that a bit unreasonable? | August 30, 2016 |
| Vol.3 Chapter 11: It's the soaring, certain-kill Santa Claus | August 30, 2016 |
| Vol.2 Chapter 10: What?! It's a sausage? | August 30, 2016 |
| Vol.2 Chapter 9: NANA~!! | August 30, 2016 |
| Vol.2 Chapter 8: I Don't Hate It. | August 30, 2016 |
| Vol.2 Chapter 7: Dead | August 30, 2016 |
| Vol.2 Chapter 6: Ayumu Would Be a Pig | August 30, 2016 |
| Vol.1 Chapter 5: Ayumu...I Never Eat Anything Except Japanese Food | August 30, 2016 |
| Vol.1 Chapter 4: Ukyu... | August 30, 2016 |
| Vol.1 Chapter 3: Cast Your Spell! | August 30, 2016 |
| Vol.1 Chapter 2: Yes, I am a Death Caller. | August 30, 2016 |
| Vol.1 Chapter 1: Yes, I am a Masou Shoujo. | August 30, 2016 |