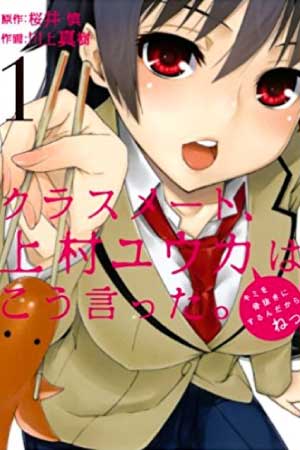 Classmate, Kamimura Yuuka wa Kou Itta.
26 chapters | Completed
| Rank 550
Shirasaki is incredibly bored by his unchanging daily school life and he ends up falling in with his weird classmate Kamimura Yuuka, who rants about changing the world to his uninterested classmates. However, when she reveals the truth about the nature of their world to him, everything will quickly become stranger than he would ever have expected!
Characters
Chapters
| | |
| --- | --- |
| Chapter 25: Confession | April 11, 2017 |
| Chapter 24: Disaster Does Not Come Alone | August 30, 2016 |
| Chapter 23: What's Beyond | August 30, 2016 |
| Chapter 22: A Step Forward | August 30, 2016 |
| Chapter 21: Another Me? | August 30, 2016 |
| Chapter 20: Good Morning, Good Afternoon, Good Evening, Good Night | August 30, 2016 |
| Chapter 19: The Real Me... | August 30, 2016 |
| Chapter 18: Can You Go to the Rooftop Now? | August 30, 2016 |
| Chapter 17: The Final Blow | August 30, 2016 |
| Chapter 16: Heidimarie Heidegger | August 30, 2016 |
| Chapter 15: Yonekura Eko's Case | August 30, 2016 |
| Chapter 14: The Five Degrees Slant Returns | August 30, 2016 |
| Chapter 13: Girl's Talk | August 30, 2016 |
| Chapter 12: Distance | August 30, 2016 |
| Chapter 11: Hiruma Takechiyo's Case | August 30, 2016 |
| Chapter 10.5: Devil King [Latter] | August 30, 2016 |
| Chapter 10: Devil King | August 30, 2016 |
| Chapter 9: Class Rep | August 30, 2016 |
| Chapter 8: The Story About Defeating the Dark Lord and Rescuing the Princess | August 30, 2016 |
| Chapter 7: The Daily Lives of Ordinary High School Students | August 30, 2016 |
| Chapter 6: An Unfortunate Angel | August 30, 2016 |
| Chapter 5: Friends | August 30, 2016 |
| Chapter 4: Friend | August 30, 2016 |
| Chapter 3: First Experience | August 30, 2016 |
| Chapter 2: 45° Angle | August 30, 2016 |
| Chapter 1: Kamimura Yuuka | August 30, 2016 |